Finest Hamptons & French provincial furniture Australia
Offering the highest quality French Louis, French provincial and Hamptons style furniture plus traditional lighting in Australia for over 30years. Our classic french furniture range is carved in Italy with the finish and upholstery completed in our Sydney workshops to accommodate your taste. Jean-Christophe is Australia's leading expert in French provincial and Hamptons style furniture design. He designs and builds one-off custom furniture pieces in French, Hamptons, deco and modern styles such as wardrobes, bathroom vanities, kitchens, buffets and french style beds. He also creates classic French, Hamptons, Modern interior designs that epitomise classic style and elegance in Sydney and Australia.
Custom designed French furniture Sydney
We custom design & build French Louis, French provincial & Hamptons style furniture for all your home solutions. Every piece of furniture unique and especially designed for your home. Our custom furniture reflects the traditional principles of fine craftsmanship and attention to fine detailing. Be it french style book cases, tv units, bathroom vanities, wardrobes, buffets, cabinets, doors and more.
Our workshop is in Sydney and we install and deliver french hamptons furniture across Australia
White french provincial furniture
French book cases
We customise your furniture to suit your style, be it French provincial, French Louis, Deco or Hamptons
Hamptons vanities
Hamptons kitchen cabinets
French doors
Decorative wall panelling & architectural consulting
Jean-Christophe is the leading decorative wall paneling designer in the classical elegant style offering stylish traditional, modern, deco, french wainscoting designs for any homes. He also works with architects & builders to create stunning french inspired & classical elements in home renovations & home design including doors, kitchens, banisters, cabinetry, wrought iron, flooring, marble & more.
?>
Classic indoor & outdoor lighting
We hold Australia's largest range of beautiful traditional classical lighting for both indoor and outdoors. Whether its classic floor lamps, french bedside lamps, stunning bathroom wall lights, sophisticated chandeliers, wrought iron lighting, stylish pendants, Hamptons lighting or outdoor lanterns our traditional lighting range is sure to offer you the refinement you're looking for in home lighting.
              Delivering classic lights Australia wide 
Latest furniture specials
Custom designed hamptons sofa daybed
New hamptons dining chairs
Elegant classic hamptons dining chair with double curve for superior comfort
New interior projects
Elegant Sydney apartment renovation and interior
See our portfolio for more interior design inspirations and ideas. Here you can see the great variety and fine detail we offer
French inspired lounge furniture
The french inspired lounge setting is inviting, convivial and sophisticated. It's a timeless look, that is lovely to come home to and  perfect for entertaining. Each furniture piece is customisable in our Sydney furniture workshop and can come in white or timber plus fabric of your choice. In white the lounge setting looks more Hamptons, in timber more formal. All our french furniture is finely carved reflecting the highest of European craftsmanship. To design your lounge room talk to Jean-Christophe for design ideas on 02 9328 3352
?>
Our Sydney workshop offers every style french furniture. The french provincial style comes in many different incarnations which is why its so perfect for creating unique furniture and interiors. From classic french provincial to formal french Parisian, to modern French and Hamptons styles. Each of these styles takes inspiration from the elegance and refinement that only the French style truly offers. Depending on how you upholster and finish your furniture piece, this can make the piece look more formal, casual, traditional or modern.
?>
Interior design ideas & inspiration
Sydney workshop, Australia wide delivery
There is nothing quite like the richness that expertly crafted objects can bring to our lives. At Christophe Living we work with skilled artisans who stay true to the spirit of craftsmanship and create each classic piece in the beautiful French provincial & Hamptons furniture style with passion and dedication, imbuing it with a truly unique aesthetic. Our Sydney based workshops customise classic furniture for delivery across Australia.
Testimonials
"Jean-Christophe has an expert understanding of the task at hand, an eye for detail and seems to possess a knack for suggesting clever solutions to design problems."
Thomas, Sydney
"Jean-Christophe has been helping us decorate our house and it's been a pleasure. He truly listened to our needs and provided us more than we expected."
Tom & Maria, Brisbane
Our latest interior design videos
Discover how we can design, build, finish and install unique furniture for you.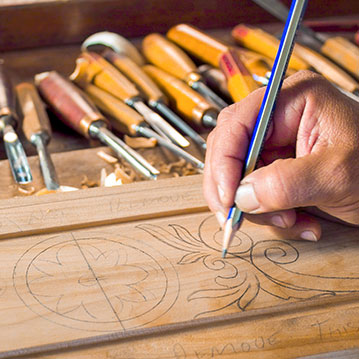 Craftsmanship
As the specialists in fine traditional and European design and craftsmanship our attention to detail and our personalised approach will ensure the highest quality for your project.
Finishes
Our traditionally trained artisans and artists are experts in producing custom finishes in both polished timber, painted and decorative effects as well as the magic that gilded details bring.