The finest French furniture & interiors
For over three decades we have been offering the highest quality French furniture and lighting. Our furniture range is carved in Italy with the finish and upholstery completed in Sydney to accommodate your taste in finish and fabric. Jean-Christophe is Australia's leading expert in French provincial furniture design. He designs and builds one-off custom furniture pieces such as wardrobes, kitchens, buffets and french style beds in Australia, to adorn your home and he creates interior designs that epitomise classic style and elegance.
Fine craftsmanship is timeless
There is nothing quite like the richness that expertly crafted objects can bring to our lives. At Christophe Design we work with skilled artisans who stay true to the spirit of craftsmanship and create each piece in the beautiful French provincial style with passion and dedication, imbuing it with a truly unique aesthetic.
Testimonials
"Jean-Christophe has an expert understanding of the task at hand, an eye for detail and seems to possess a knack for suggesting clever solutions to design problems."
Thomas, Sydney
"Jean-Christophe has been helping us decorate our house and it's been a pleasure. He truly listened to our needs and provided us more than we expected."
Tom & Maria, Brisbane
Our latest interior design videos
Discover how we can design, build, finish and install unique furniture for you.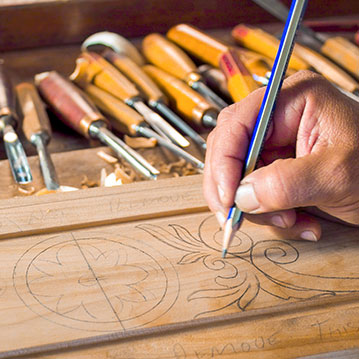 Craftsmanship
As the specialists in fine traditional and European design and craftsmanship our attention to detail and our personalised approach will ensure the highest quality for your project.
Finishes
Our traditionally trained artisans and artists are experts in producing custom finishes in both polished timber, painted and decorative effects as well as the magic that gilded details bring.