Curtain design services
Swag and tail curtains
French damask sheers
Traditional curtains
Pelmet design
Tiebacks and trimmings
Classic rods and finials
Roman blinds
French bonded blinds
London blinds
The richness of fabric curtains greatly enhances classic interiors, while also filtering light and offering privacy. Our dedicated curtain maker has over 40 years' experience, and whether it be a bonded blind with a beautiful French toile, a rich swag and tail or a simple elegant sheer we have the variety to suit all styles.
Fabric selection
At Christophe Living we have curated the finest European fabrics for you to choose from. Whether you are creating a classical look or a fresher, modern feel our beautiful range fabrics have been thoughtfully selected to suit variety of budgets and needs. If you're after something truly amazing, we also offer the most luxurious French fabrics made on the original looms used for Queen Marie Antoinette's interiors.
The selection of fabric really determines the effect that the curtain will bring to the room. A toile will add a light French country touch; a sumptuous damask will give a rich classical feel; a stripe fabric will provide restrained elegance; and a plain linen with decorative border will create a modern Parisian look.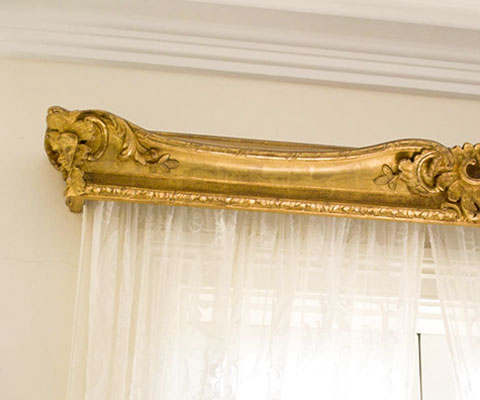 Drapes & swags
We can design drapes and swags to suit any interior. If you're after something rich and elegant we can create something completely unique to dress your window and add that wow factor. Jean-Christophe will personally draw up and design the shape and drop of each fold to ensure your drapes are truly breathtaking and special. He will design the drapes to reflect the needs of each room, whether it be to enrich, uplift, add privacy or for purely practical use.
Pelmets
We custom design beautiful French inspired pelmets to suit any interior. Each pelmet is designed especially for your interior and finished in any tone, patina or colour you choose. All pelmets are custom made in our Sydney workshop. Pelmets add a formal elegance to any interior, providing a crowning effect that highlights your French curtains and adds formality and timeless style.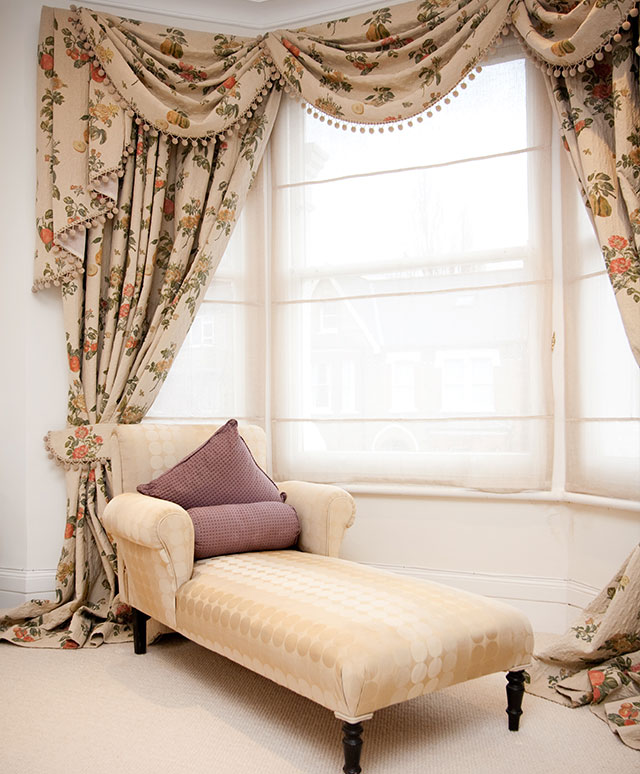 We have the finest selection of trims, tassels and brocades in a wide variety of colours and designs to match your selected fabric and add a rich elegant touch to the interior. We also have a fine selection of tiebacks in brass that add a truly European touch to any home.
Blinds are a very versatile way to dress a window. They can be rich and detailed as in the London blind style. They can give a sense of structure by folding like a Roman blind - plain with border or striped fabric works beautifully on this style. A very popular choice is the bonded blind, whereby we select a fabric with any pattern (or even a toile) and attach it to a special roller blind. An elegant addition is to put a light linen sheer in front of the blind so that the room can be given a larger lighter feel while having the advantage of greater privacy.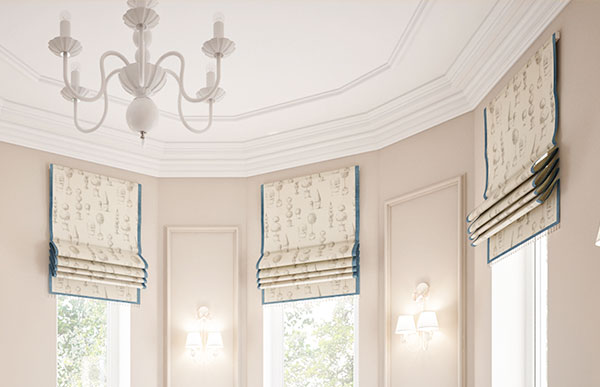 The process
Talk to Jean-Christophe about the look you want and he can help you make the right decision for your interior. He can do a home visit and give you great ideas to dress your windows in ways that are sophisticated and stylish. Jean-Christophe can help you choose the best fabric and accessories and he will supervise the making of the curtains by our highly qualified curtain maker. We employ only the very best curtain installers to ensure everything runs perfectly.