French mirrors & trumeau
French mirrors
Baroque carved mirrors
Gilding and custom finishes
Trumeau
Custom carved mirrors
Mantle mirrors
Wall mirrors
Picture framing
French mirrors
Mirrors are a big part of French interiors and décor; it is where the woodcarvers and gilders were able to display their skills to dazzling effect.
Mirrors have many functions, from creating the illusion of larger rooms to bringing more light into darker areas. They also act to frame sections of an interior, and in this way to bring the attention to settings and details.
Custom framed mirrors
Having your mirrors custom framed allows you to specify the exact frame, size and finish, so that it can perfectly match the space. We have a large variety of carved frames, from simple lines to elaborately carved ones. We also do custom finishes on frames and mirrors to achieve that perfect balance of colour and tone that enhances a room so well.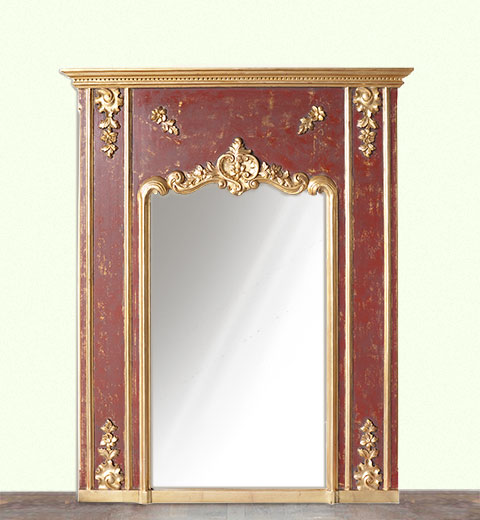 Trumeau - the French wall mirror
This traditional French style mirror has many decorative elements, from mouldings to ornaments as well as multiple sections where some can be gilded and painted. Often the trumeau also has a painted scene at the top, so that it acts both as framed mirror and artwork.
Mirror & picture framing
Whether it is a print, an etching or an original oil painting, it is the framing detail that allows it to be shown to its full potential. Art framing is a truly specialised skill, so Christophe Living works with experts who have trained in museum and art gallery framing, and who can really show the art in its best light. Talk to us about gold, silver or antique picture frames.