Give your home the classic elegance
that French doors offer
Ornaments and carved elements
French provincial doors
Full design and installation
Kitchen and wardrobe doors
French front doors
Renovate existing doors
French inspired doors & antique paint effects
Christophe Living are the only specialists that design and make classical doors for rooms and the main entrance. Our door designs are inspired by the antique doors of the grand homes in Italy and France, and we use a large variety of mouldings and panelling options as well as traditional French joinery techniques for an authentic traditional look. We can also apply mouldings and ornaments to existing flat internal doors, giving them a French look without the need for entirely new doors.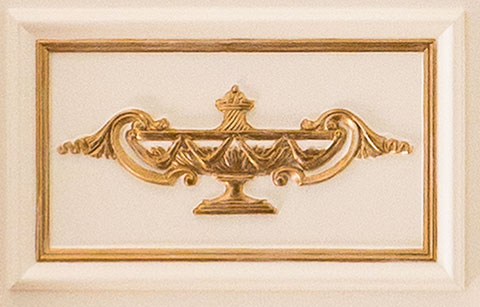 The process
Jean-Christophe will design your door especially for your home. He will create unique drawings that include all the measurements and specifications. In consultation with Jean-Christophe you can decide on the level of mouldings and ornamentation you want. Samples will be made by our in-house artisans to show you different finishes and special paint effects. We can recreate any finishes you like in any colour, tone, texture or patina. The door is then constructed and finished in our Sydney workshop before our qualified installers deliver and install the door.
French inspired cloakroom
In this beautiful French inspired cloakroom, we designed the doors to be as elegant as possible.
Each door is high and slender with symmetrical panelling and beautiful ornaments. A pelmet with curved mouldings and rectangular ornament runs along the top of the doors to create structure and formality and a crowning effect to the piece. It is finished in antique white with a light antique wash with grey trim that has a rub-through effect brushed with champagne gold gilding. This is a truly special cloakroom.
Renovate an existing door
If you have an existing kitchen, wardrobe or cupboard we can renovate it by adding new doors or renovating existing doors by refinishing them, adding mouldings and ornamentation. This can completely transform the look of a room and bring an old piece back to life.
Working with your architect
Contact us or make a time to visit in person at our shop in Double Bay, Sydney. Jean-Christophe can look at your architectural plans and is experienced in collaborating with your architects and subcontractors to incorporate beautiful designs into your home. He can also visit your home and make on-site sketches to help you choose the perfect designs for your project.
?>
Construction, installation & delivery
Doors from Christophe Living are fully constructed by talented craftsmen in our Sydney based workshop and hand finished by talented artisans and painters. Our highly trained cabinetmakers will deliver and install the doors, making all adjustments so they fit perfectly.