Wall panelling
Wall panelling
French wall mouldings
Trompe l'oeil panels
Louis carved panels
Ornaments for wall panels
Parisian wall panelling
As the specialists in classical interiors Christophe Living offers a full design service and installation of wall panelling. We carry both standard and made-to-order custom mouldings that can transform a plain wall into a design feature.
The history of wall panelling
Even in ancient Roman frescoes, the wall designs were framed with painted borders that defined each section and allowed the viewer to focus on specific design features. All the classical grand homes since have used mouldings and painted frames to create a feature that both contains decorative elements as well as creating a sense of structure that balances a large surface.
In a home we seek order and harmony; the proportions of areas defined by lines such as those made by mouldings can provide this harmony.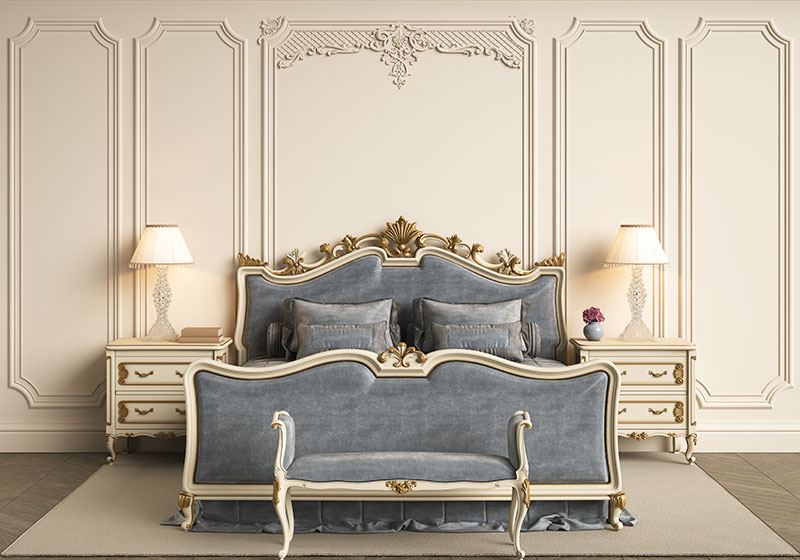 Low panels with only a dado or chair rail at waist height offer a sense of structured elegance. Leaving the top section free is perfect where there are low ceilings, as the proportions can help give the sense of a taller space. This system works well particularly along a staircase.
Full panelling, where there are panels up to waist height and taller panels above, are great to give a room that classical and more formal feel. The way the panels are proportioned will also help the eye focus on artwork and mirrors, or to highlight the proportions of furniture in the room such as the bed or sofa.
Shaped or Louis wall panelling is the classic French style, where the top of the panel is shaped and usually has carved ornaments at the top and sometimes at the corners. This really adds to the French classical feel of the room.
Wall panels with wall paper, especially the hand painted Chinoiserie wallpapers such as the De Gourney, with their delicate branches, leaves and birds, are perfect for framing and creating a great decorative effect. Even simpler wallpapers for a more restrained look can be framed to great effect.
Wall panelling in contrasting colours. Even without wallpaper one can, with contrasting paint colours, create a striking and stylish effect with wall panel designs and mouldings. It can be as simple as painting the mouldings in a slightly darker or lighter tone than the wall, or for a stronger effect, by painting the internal section in a different colour that the rest. Panelling can come in any colour, tone or in gilding. Rub-through effects, patina and antique washes are also available.
Gilded wall panelling immediately transforms a room with the magic that a gold trim adds. This can be done very subtly with just a fine gold line or with lots of gilded elements and carvings, depending if one wants a Parisian apartment look or a touch of Versailles in the bedroom…
Wall panelling with painted decorations. In the classic grand homes in France and most of Europe wall panels were often decorated with elaborate hand-painted finishes, trompe l'oeil designs or painted motifs. They were a very prominent feature in setting the style and décor of each room. While not many people want to re-create the full grandiosity of those panelled rooms today we can still integrate some of the classical refinement that a panelled wall brings to a room.
Working with your architect
Contact us or make a time to visit in person at our shop in Double Bay, Sydney. Jean-Christophe can look at your architectural plans and is experienced in collaborating with your architects and subcontractors to incorporate beautiful designs into your home. He can also visit your home and make on-site sketches to help you develop wall paneling ideas for your project.
Ornaments & mouldings selection
As the specialist in classical wall panelling we offer a very wide range of mouldings. We also can custom design and make unique mouldings for that totally personalised approach to your interior. We also have a large selection of ornaments that are available for your wall décor, from little corner mouldings to large carved sections.