Classic Elegant Curtains
Classic drapes completely transform an interior. Nothing adds style and elegance like drapery. There is an art to choosing the right curtain shape and fabric for each room. Jean-Christophe has been helping his clients dress their windows for over two decades, so he truly understand the importance of getting this element perfect.
 
Tips to achieve the look.
Sheers
Sheers are probably one of the most important additions to a window dressing. They allow light to filter through the room, provide privacy and soften the whole interior. Quality of sheer fabric is important. Not all sheer fabric is created equal. It really is important to get the right heaviness, weight, look and feel. We have a range of sheer fabric for different budgets that offer the best look and effect. We also hold a beautiful range of sheers with light pattens or demasls inter-dispersed, so  plain sheers is not always the only option.
Swags
Adding a swag at the top of your window/curtains is really a powerful design feature that embellished the entire room and makes your curtains stand apart from the rest. There is an art to designing swags and creating just the right amount of curves, folds and the way the end drops down. Everything is carefully designed first to harmonise with the room and to work best with the fabric chosen, especially a fabric with a pattern.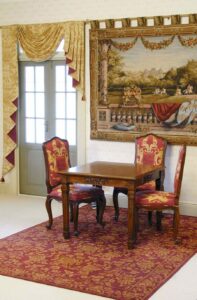 Pelmets
A super great addition to the window dressing, a pelmet creates a structured element that balances  the softness of the drapes and sheers. One flowing perfectly out of the other. Pelmets demonstrate that it is really more than just curtain that goes towards creating the classic traditional curtain looks which adorn the many great interiors and homes we love. Timber or fabric, both offer many design elements that can be made to perfectly suit the room.
See here for example how the fabric pelmet is curved with contrast trim tassel. And how a fine red line at the bottom balances out all the colours in the fabric.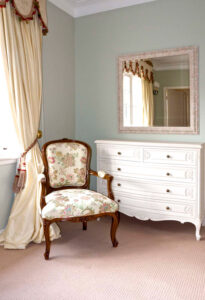 Timber pelmets
We custom design and make our special range of timber curtain pelmets which can be in any design or finish. Here also is a louis 16 style timber pelmet in white with subtle ornaments. And a louis 15 style pelmet intricately carved and gilded. For more see our blog on timber pelmets.
Blinds
We also design and make beautiful blinds in a variety of traditional styles and looks. These go well in smaller spaces, lower ceiling, or more Hamptons style interior.
Design, Construction, and Installation
Jean-Christophe designs your curtains himself to ensure the whole interior works harmoniously. He can also help you choose the best fabric. Our range of fabrics allows for a variety of budgets.
At  at a home visit Jean-Christophe will talk with you about your needs and he will give an indication of design ideas, and costs. He then works with his highly trained curtain maker to construct the curtains and a professional installer does the final touches.
Feel free to contact Jean-Christophe with any questions or queries. Or make a time to visit him at our showroom.
Call 02 9328 3352 or email  
[email protected]
or use the enquiry form here.
SEE MORE OF OUR CURTAIN DESIGNS
See our Curtain Portfolio here.
See our Curtain Design Information Page here.