Hamptons style bedrooms have that perfect balance between relaxation and sophistication.  In this article we explore the different furniture selections and styles to help you create that wonderful Hamptons feel.
Hamptons style bedheads 
The Loire bedhead is beautiful with carved ornaments and light antiquing. Its graceful curves offers that fresh coastal feel typical of Hamptons bedrooms. This bedhead can also come in plain white or timber depending on your overall colour theme. The timber head panel can also be upholstered in a Hamptons style fabric with blue features or with cosy diamond buttons. to see these other options take a look at the  Loire bedhead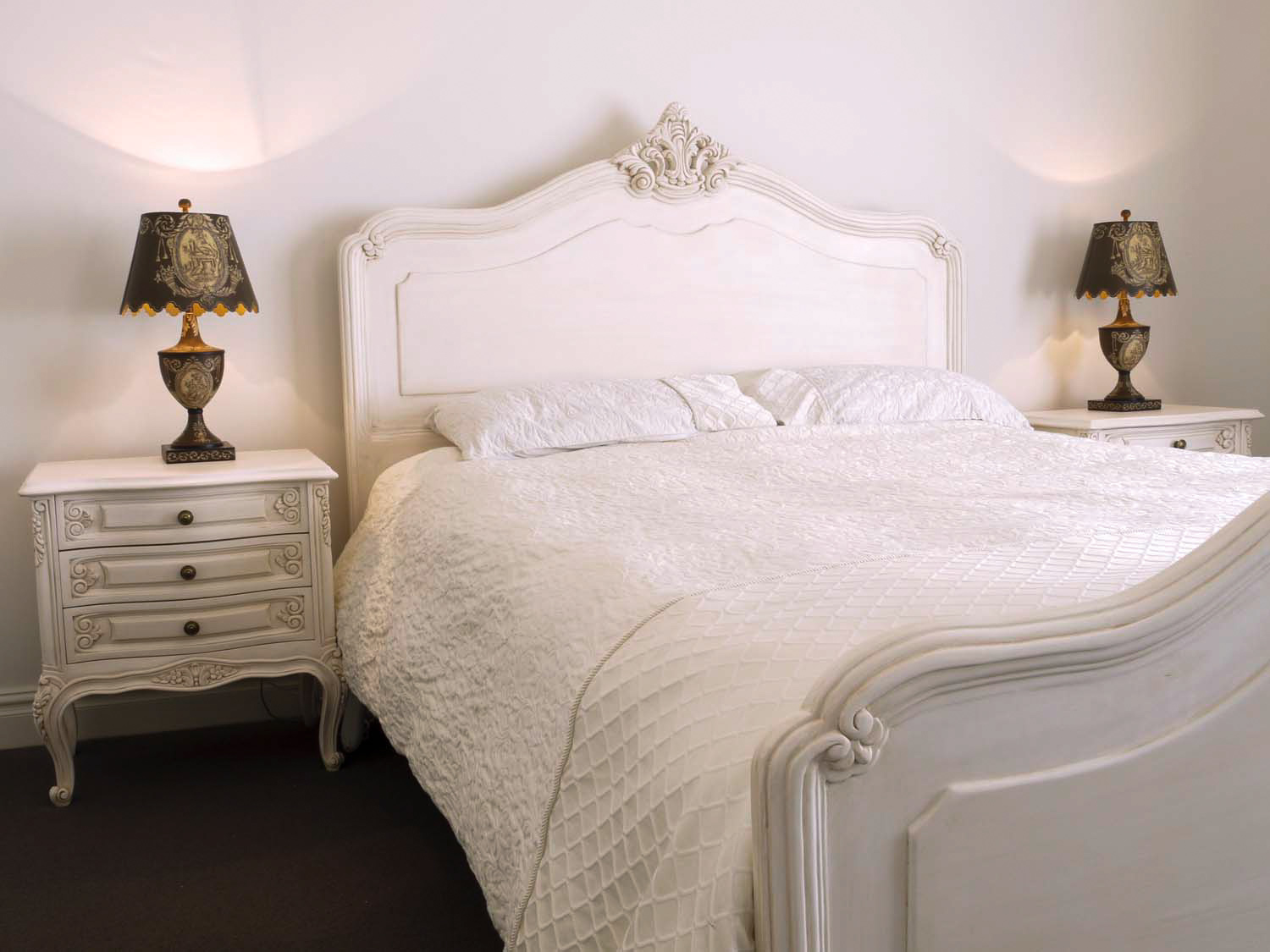 The Louis XV bedheads below  shown here in white and black and are also great for achieving the Hamptons style look. This bedhead has a gentle curved top with a more minimal moldings design and  ornamentation in the middle. This is a classic elegant look that blends well with more modern style furniture. The fabric selection for upholstery the headboard can allow lots of flexibility for creating a focus in the room. And diamond buttons and linen can also be done for that warm quintessential Hamptons feel.
Hamptons style bedside tables & drawers  
Hamptons bedside tables and chest of drawers come in many shapes and sizes. Louis style bedroom furniture is great for achieving the Hamptons look as they offer fine detail, craftsmanship, but are still fresh and modern looking. These Louis bedsides below are great as they a not too wide which is perfect for apartment living. One is in the Louis 15 style the other in the Louis 16 style depending on whether you want a more curved or streamline look. To see other larger bedsides see our bedside table range. This chest of drawers is a streamline French modern look ideal for Hamptons bedroom style with its curved front, chrome handles and scalloped apron.
For the finish on your bedroom furniture we offer various options. Plain white can give that coastal feel and contrast nicely with blues in the room. But also adding a light layer of antique wash on top can soften the look and add a bit of depth int the carving details. Other ideas adding a light grey trim on some of moldings or a rub through effect which can create tonal interest and tie in with the fabrics you choose. For more finish ideas see our finishes page.
Hamptons bedroom lighting
Hamptons lighting for the bedroom is really important in rounding off the look. Often chrome can add a modern fresh look or white with linen shades work well. A small chandelier above the bed can become a focal point so don't be afraid to choose something interesting.
Hamptons bedside table lamps provide that homely touch to the Hamptons style which is always glamorous but focusing on everyday living needs of comfort and ease. Lamps are great way to introduce some decoration focal points to and lift the sense of height on each side of the bed. Try to match you bedside lamps shades to the bedhead fabric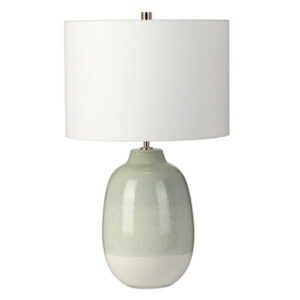 Hamptons armchairs & finishes 
Creating warmth and charm is another important aspect in the Hamptons bedroom style. A beautiful armchair helps introduce some new fabric combination opting for something a little interesting as a decor addition. In these bedrooms here, a classic Louis bergere armchair in white has contrasting fabrics -damask in the chair and stripe in the ottoman creating some variation in the design. In the other bedroom below a Hamptons tub chair in a light linen provides that classic bedroom feel, delicate, cosy and feminine.
This pair of white bergere armchairs feature a beautiful linen with embroidered flower pattern. This linen also comes with blue flowers or light damask to add some decorative features to the room. The panelling behind the armchairs is also another great way to enhance the Hamptons home. We specialise in wall panelling which can come in various designs, shapes and finishes. Panelling is great for Hamptons style as its light but adds that formal structured touch.
Although white is a quick way to achieve the Hamptons freshness don't be shy about mixing different finishes to achieve balance between variety and interest. As in this bedroom below we mixed timber and white finishes against a teal wall for that coastal feel. As you can see the French provincial style has become synonymous with the sophisticated and casual elegance which typifies the Hamptons style.
We hope these furniture ideas help you create the perfect Hamptons style bedroom interior. For more bedroom interior design ideas see our bedroom portfolio for inspiration.
For more on Hamptons style see Hamptons lighting ideas