Louis sixteen style fits perfectly in the modern, Hamptons or classic interior. Its refined lines and symmetry provide a graceful elegance that can lift any room in the home.
Here in black the Louis 16 style sofa looks bold and sophisticated. The square back design offering a streamline look that can be matched to many different settings.
This gorgeous new modern velvet in champagne gold and black is stunning on these black Louis armchairs with soft gold highlights. The finish and fabric merge perfectly here to create a very elegant effect.
The black finish works perfectly in the Hamptons style interior with fresh linens and whites giving both a classic and modern feeling.
In white or white with a light antiquing a fresh lighter look can also add that modern touch perfect for coastal Hamptons style interiors.
This sofa looking stylish in our quality timber walnut finish and cream damask fabric.
The Louis sixteen coffee table is a great addition to modern and Hamptons style interiors. Here perfectly co-ordinated with the streamline leather lounge. The coffee table also looks great in white or timber.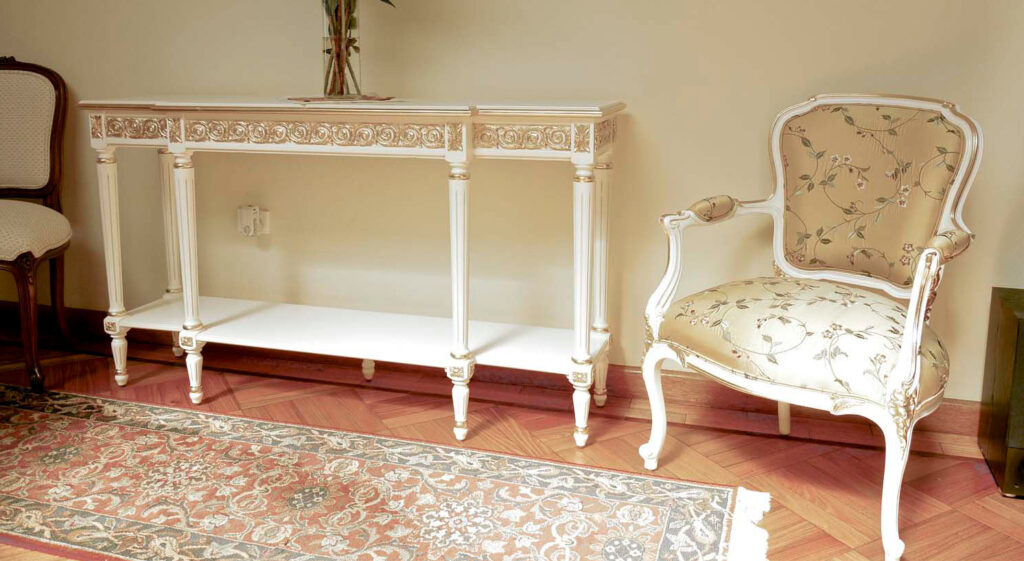 The sophistication of Louis style is easily seen in this  gorgeous console table. Its classic fluted legs  and gold trim adds that special touch. This console can come in any length.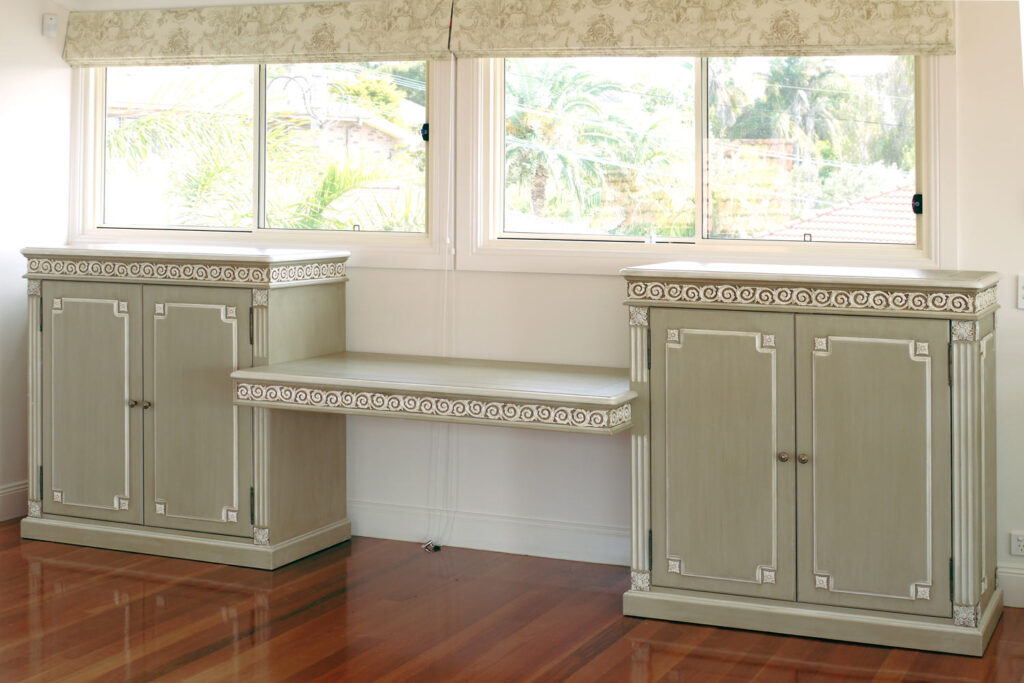 When designing custom furniture Louis sixteen is great stylistic approach being versatile and adaptable. Here the two custom Louis style cabinets with window seat are finished in a light green with white ornamentation and a matching toile blind above.
The dining room is the perfect place for adding the classic elegance of Louis sixteen style. These oval back chairs in white with superb blue french damask look crisp and sophisticated around the Louis fourteen table with subtle gold motifs.
Nothing is better suited to the classic custom wardrobe design than the Louis sixteen style. The style is known for its long lines and symmetry which can easily be scaled to any space in the home. The embellishments and motifs can be done according to your taste. A truly exquisite wardrobe design by Christophe.
Discover more about Customisable French Hamptons Furniture here.