This starts with undercoating the furniture in multiple layers with sanding in between.
Then topcoats of antique white are applied or of pure white depending on the look you're after.
The antiquing stage involves a hand-brushed finish that receives a light taupe/brown wash that is lightly rubbed off on the proud parts, so that it is a little darker in the recesses of the mouldings, carvings and corners.
This level of "antiqueing" is selected based on customer preference, style and setting.
Antique white smooth no antique finish
Antique white brushed light antique
Antique white brushed medium antiqe
Antique white brushed heavy antique
Antique white with rub-through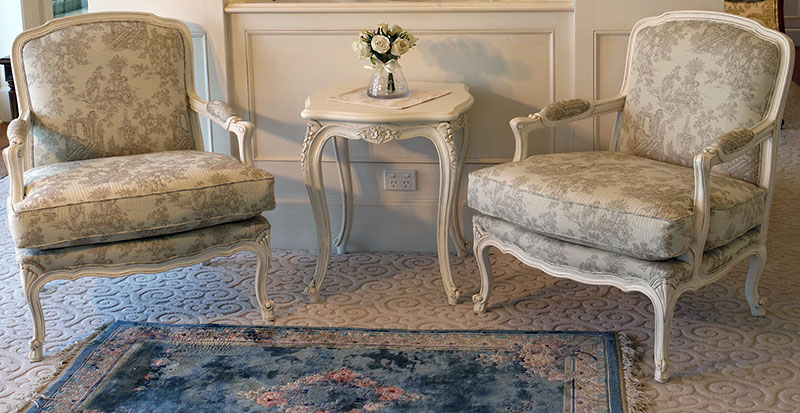 The carving and moulding can be finished in a contrasting colour or with gold, this can be done with a little rub-through to "soften" the contrast and integrate the contrasting colour with the overall piece.
French grey is often used as a contrasting colour and so is gold.
Any colour is really possible, the traditional contrasting colours on antique white furniture are:
Grey
Taupe
Gold
Blue
Mustard yellow-brown
Terracotta red
Olive green
Pink
Painted finishes are very popular for French furniture at the moment. The look is fresh, light, airy and contemporary. Talk to us about the kind of painted finish that you're looking for your piece of furniture.
Find out more about the right French style furniture finishes for your home by getting in touch via email or calling Jean-Christophe directly on 0412 744 711