The sleigh bed is one of those quintessential and iconic French pieces that remains as popular as ever. Characterised by a curved headboard and footboard with a unique scroll detail, it adds romance and elegance to any bedroom.
The curves of the sleigh bed are typical of the Louis XV style, but the design actually emerged during the Empire period, when the French were fascinated and highly influenced by the empires of ancient Rome and Greece. The original sleigh beds would have been of a much heavier design and only built for one person, but after being popularised by Napoleon they developed into the elegant pieces we know today.
And it is easy to see why their popularity has endured. The shape has such a wonderful balance between containing and inviting us into the sleeping space. It also offers just the right mix of solid structure and the softness of the rich upholstery.
Retaining the timber finish on the frame, perhaps in a rich walnut tone, can bring a sense of warmth into the room. Or by opting for an antique white you can soften the look and allow it to be matched with a broader range of fabric colours.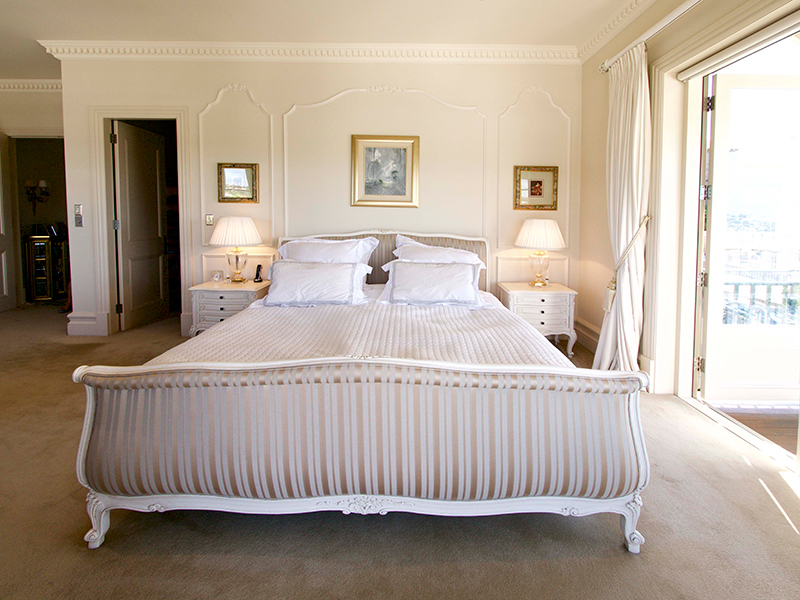 Though you can select any fabric you like to suit your décor, linen fabrics, such as the Belgian striped linen, have become a popular choice. The richness of the curves and the carving of the timberwork contrasts beautifully with the plain linen, bringing this traditional French piece of furniture into the modern day.