Lighting to relax
Your bedroom needs to be a relaxing and rejuvenating place where you can retreat and recharge at the end of each day. When designing your bedroom lighting, think about creating ambience, atmosphere and mood. The bedroom needs to have a soft and soothing light scheme to prepare you for sleep at night. In the morning, the bedroom lighting needs to be brighter and task orientated to make sure you have adequate light to get ready for the day ahead.
Lamps are an ideal way to create a soft light within the room. Make sure your lamps have lightly coloured lampshades and low wattage bulbs. This helps create a soft warm background glow within the room. Lamps can be placed beside the bedside or on the dressing table and a floor lamp in the corner of the room can add variety and light up any dark corners in the bedroom.
OK
Bedside lighting
Bedside table lamps are one of the best ways to achieve ambient lighting in your bedroom.
Your table lamps need to be high enough to provide sufficient light when reading but not be so high as to create glare from the bulb. Another bedside lighting option is to have pendant lights hanging above each bedside table. They should hang about 50cm above the bedside tables. Hanging pendant lights create a soft warm atmosphere and offer great task light for reading. They also allow you to free up space on the bedside table.
Bedside wall lights
Another creative bedside lighting option is to place wall sconces or wall lights above each side of the bedhead. Wall lights can face upwards or downwards depending on your lighting preferences. Sconces and wall lights add a soft wash of light over the wall and come in many decorative designs, both traditional and modern. They can bring a touch of elegance and sophistication to the decor within your bedroom. As sconces and wall lights attach directly to the wall, they also help keep your bedside table clutter free. If you like to read in bed, a downward facing wall light is ideal. Alternatively, an adjustable wall mounted lamp can also be great for reading purposes as the adjustable arm offers you a lot of flexibility.
Bedroom task lighting
The bedroom is also the place where we get ourselves ready for each day. In the morning bedroom lighting needs to be of an adequate brightness at places like the dressing table and wardrobe so that we have sufficient brightness to start the day. Recessed ceiling lighting provides an unobtrusive general illumination around the room. A lamp on the dressing table can also provide specific task lighting and creates interesting mirror reflections. Wall lights can also be positioned either side of your dressing table for a more decorative approach. Make sure your wardrobe also has sufficient light by installing recessed lighting or a spotlight in the wardrobe.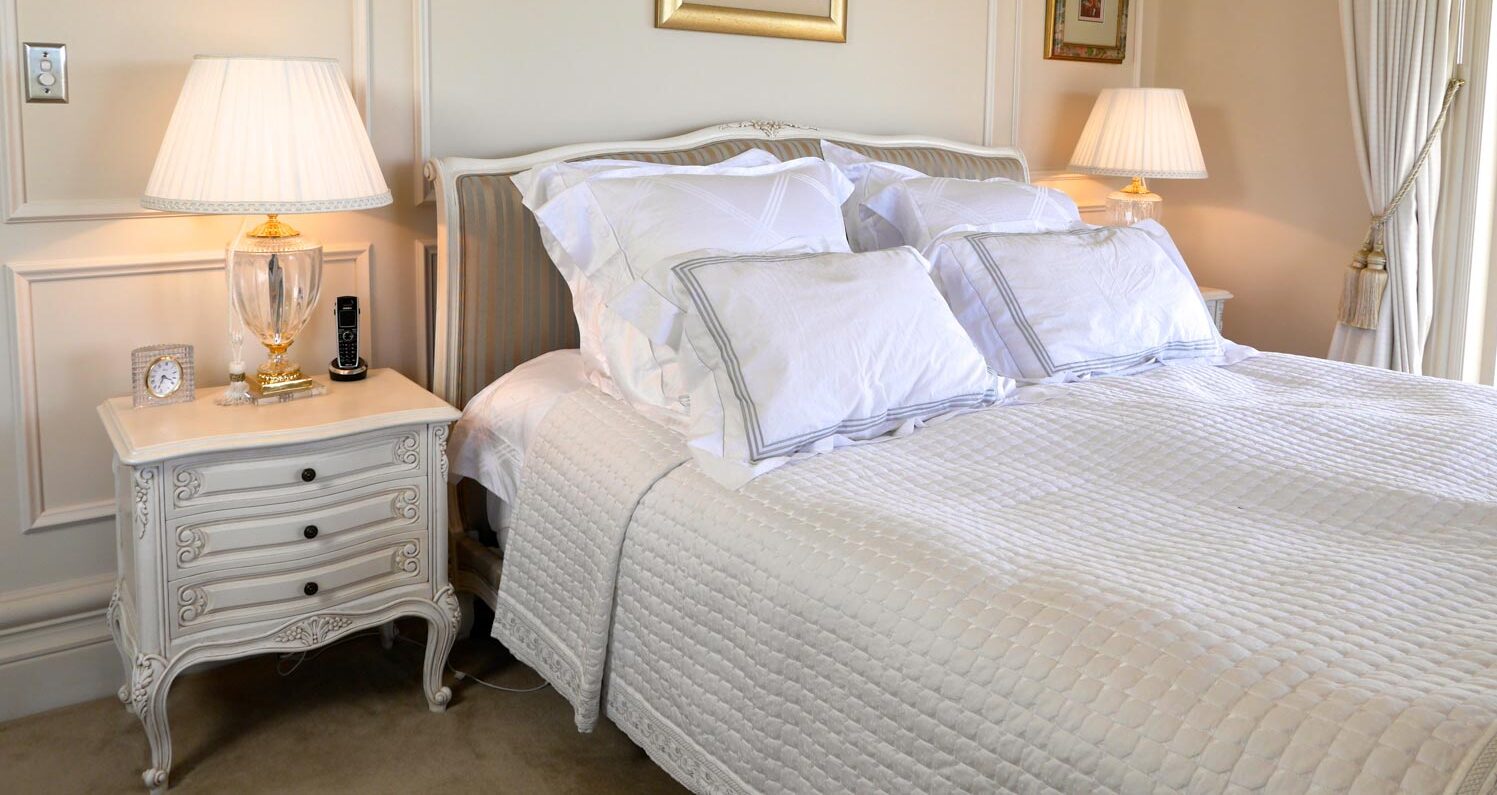 Decorative and stylish lighting
Bedroom lighting also serves a decorative purpose. A bedroom chandelier is an elegant and stylish lighting addition to the bedroom; sophisticated yet homely. Depending of the size of your room the chandelier can be quite large so as to provide a centrepiece to the room. Painted chandeliers in soft white or cream are a great way to bring freshness to the room, while crystal chandeliers can add a touch of lightness and sparkle.
Clip-on chandelier shades are also a great addition to the bedroom chandelier. They soften the light and give the chandelier a homely and welcoming feel. When positioning lamps around the room, choose lamp bases with different heights so as to create variety. You can also harmonise lamp shade fabrics with other fabrics around your room such as those in cushions, bedspreads and armchairs.