A treasure trove of personal objects and a delicate decorating touch give these bedrooms a rich and intimate feel.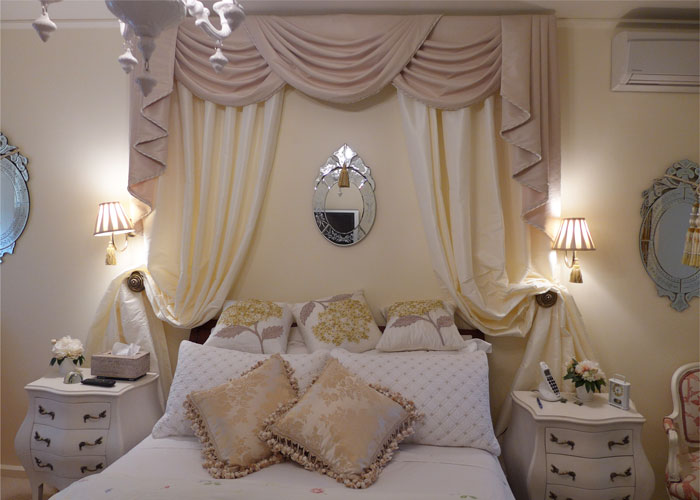 Walking in to the master bedroom, the first feature you see is the bed, crowned by a swag and tail with pale cream silk dress curtain held by beautifully carved and gilded tiebacks. Complementing this soft, feminine look are two Louis 15 – XV bombee bedsides in antique white and a salon bergere in a lovely white and pink fruit and floral toile, while on the other side is a fully upholstered ladies Louis 15 – XV wingback with skirt in matching pink garden motif toile.  The owner has a love of the rich Louis and Marie Antoinette style fabrics, which not only add a sense of luxury to the space, but also bring unity to this varied and personal selection of furniture and objets.
On one side as you come in is a lovely provincial painted chest of drawers in cream and lavender with hand painted motifs with a mirror above reflecting the softness and richness of the bedroom. A Limoges porcelain chandelier with baroque scrolls adds a diffused light to the space and highlights the oval Venetian mirrors hung around the room. The ornate tallboy which seems so much at home in this French style room, is in fact a family heirloom carved by convicts from Tasmanian pine.
The guest bedroom is as charming and inviting as the master bedroom, but on a smaller scale. Most of the furniture is in white to create a bigger sense of space, and a lovely Chinese painted panel with storks and ducks opens up the vista. In this room also, you have pieces collected from around the world that fit so well with the French style and overall décor, like the Chinese lamp and the Mexican silver mirror that pick up on floral and bird motifs of the nearby scatter cushion and bed linen. Above the bed, an innocent looking light fitting is actually a 19th century gasolier from a French bordel, rescued and converted to an electric chandelier.

It's obvious how each decoration, picture and knickknack tells a story of travel, its colour matching something existing of personal and family history. Each object is so well related to its surrounding, while keeping its individual personality and charm, creating this rather unique experience of being surrounded by a life fully lived and travels fully enjoyed.