Christophe Living stocks a large range of occasional chairs and salon chairs. These are small armchairs that can be easily moved around the room. A salon chair was traditionally in the reception, lounge or sitting area – what used to be known in the English home as the drawing room.
Entrance 
In the modern home, salon chairs are a great way to bring comfort and decoration to an entrance or a hallway. They provide great sense of homeliness, welcoming and decoration.
They are also highly convenient. When you are saying goodbye to friends at the front door and the conversation lingers an occasional chair provides a comfortable place to sit down. They are also a great place to sit while putting one's shoes on or provide somewhere to put one's bag.
Another great thing about the salon chair is that you can dress them up or down depending on the fabric you choose and the statement you wish to make. A rich fabric looks great on an entrance occasional chair and makes a statement as visitors enter your home. The salon chair is much easier to move around than the traditional armchair, as it is lighter and smaller in weight and dimension.
Lounge
Even in a lounge area where you may have two or three-seater sofa you can put few salon chairs even in little pairs with a little table between them or by a coffee table to dress up a corner which may be empty.
Dining
One can also use dining carvers as occasional armchairs. For example, in a dining area where you may need both extra space and an extra chair can put a salon carver chair on each side of a side server, creating a lovely way of dressing up the wall. Sometimes just putting a little square cushion can really enhance this effect and add an extra colour to the setting. You can these pull these chairs in if extra chairs are need for large groups at the dining table.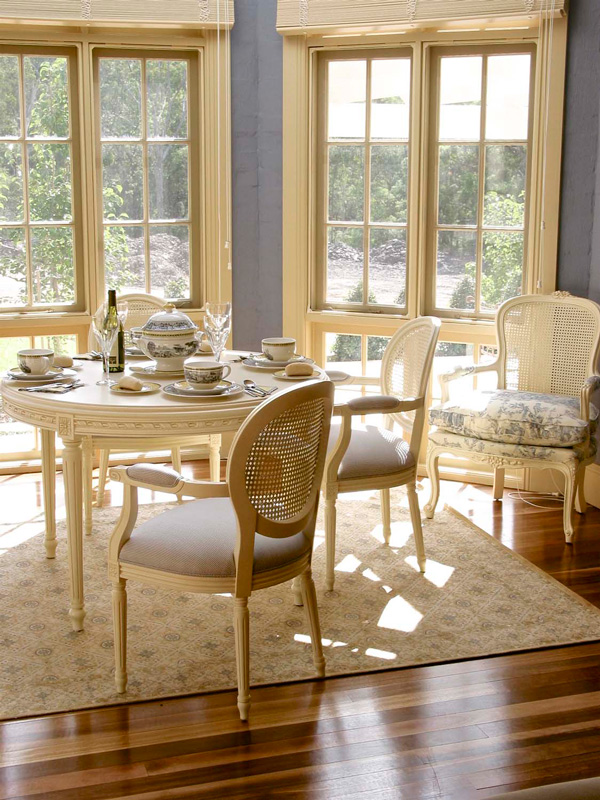 Bedroom
One of our favourite areas to put a salon chair is actually in the bedroom. Here you can easily put two small comfortable armchairs without taking up too much space. The Louis 15 and 16 styles are perfect as the can both dress up the room and offer a relaxed feel. They are also light and easily lifted or shifted around the room. In the bedroom occasional chairs are not only comfortable, but they offer a perfect place to sit while getting ready for your day rather than sitting on the edge of the bed. Tub chairs are particularly comfortable. They have a rounded back with upholstered sides inside, which creates a lovely curve for the back and enhances the comfort and welcoming look.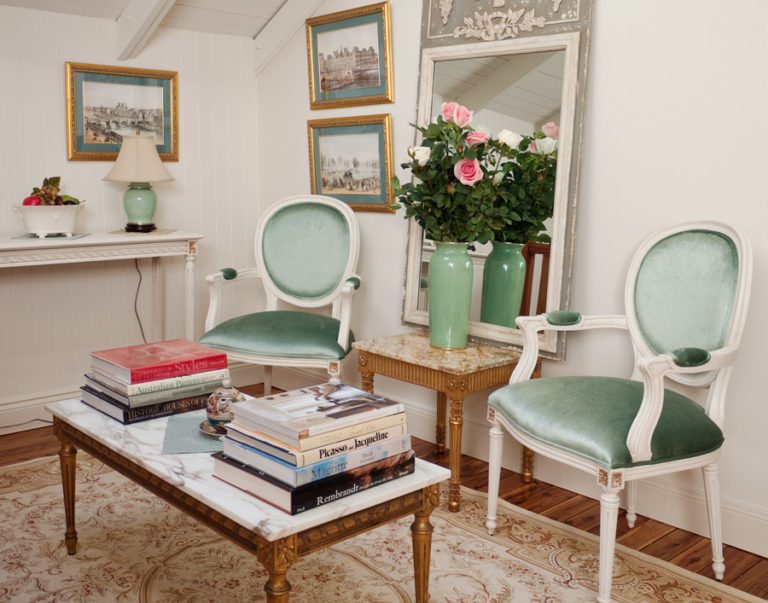 Fabric and finish
There is something delicate and soft about the salon chair. In order to make them less traditional a great option is to have them finished in antique white with a fresh linen fabric. This brings a contemporary feel. It also looks great to highlight some carvings and mouldings with a contrasting trim colour such and antique grey and a rub thru effect to give even more aged and antique quality. They also look great in a bird toile or floral Louis fabric. A lovely touch is also an antique white finish with little touches of gold, which creates a lovely lift.
Some salon chairs are more elaborately carved than others. Most of our Louis reproductions carved in Italy from European beech and are polished and upholstered here so any finish is possible.