The French provincial bed is a classic, adding sophistication and beauty. When choosing the right French provincial bed for your bedroom, there are different stylistic options available. Here we go through the different French provincial beds designs to help you find the perfect design for your dream bedroom.
Campagne French Provincial Bed
The Campagne French bed is aptly named for it reflects so well the style of the grand French country homes.  The style is just between the Louis sixteen and the directiore with its carve elements, square panel and cut curved corners.
An antique painted finish would suit it perfectly with either plain or more elaborate fabric or damask. This bed can be made to look more like a modern classic by choosing a dark plain painted finish. Adding some gold touches would dress it up in a slightly more formal elegance. This bed comes in every size.
Arbonne French Provincial Bed
The Arbonne bed has a slightly more elaborate Louis sixteen style with rope carving at its base; carved round rosettes on square section on turn fluted legs. The top has a domed line with round cut corners and elegant posts and inner raised finials. Featured on the website is the painted version in antique white with French blue trim. With a more complex painted finish the fabric suggestion would be to choose a more simple plain fabric, small check or linen fabirc. Toile or floral would also look great. This bed comes in every size.
Loire Acanthus Full French Bed
The Loire acanthus bed is based on a classic Louis French provincial bed with an featured acanthus carving at the top of the dome shape bedhead. This comes as a bedhead and full bed and is well suited to painted finish with any choice of fabric. This bed can come in timber finish antique walnut, painted finish or with diamond button on bedhead. This bed comes in every size.
Antionette French Provincial Bed
Name after Mary Antoinette this bed has very much the qualities of some the elaborate furniture of the time, which Louis the Sixteenths' spouse had in her country estate. With the classical Louis sixteen reeding, carved rosettes and carved motif along the top of the bed head. It has a neo-classical inspired roof shape with floral basket and on each side a garland extends to the edge. At the top of each post a classical Louis sixteen finial and floral basket give it areal dressed up and feminine quality. On the website the bed featured is in antique white with highlights of soft green which suits its floral and almost pastoral quality. Again as a fabric choice a plain or toile would suit this bed very well. And if instead of green any colour can be chosen or in the case of gold trim it would lift the bed into a more classical Versailles chateau look. This bed comes in every size.
Louis Sixteen Carved Ribbon
This Louis sixteen carved ribbon bed comes in every size and is available in timber, painted, panel, upholstery, cane or raised timber panel. It has an elegantly domed top shape with rounded top corner and at centre a classic Louis sixteen ribbon carving. The posts are fluted with carved rosettes in each square section. This elegant Louis sixteen bed looks great in stripe, damask or plain linen fabric and comes in any finish with or without trim highlights or gold contrast.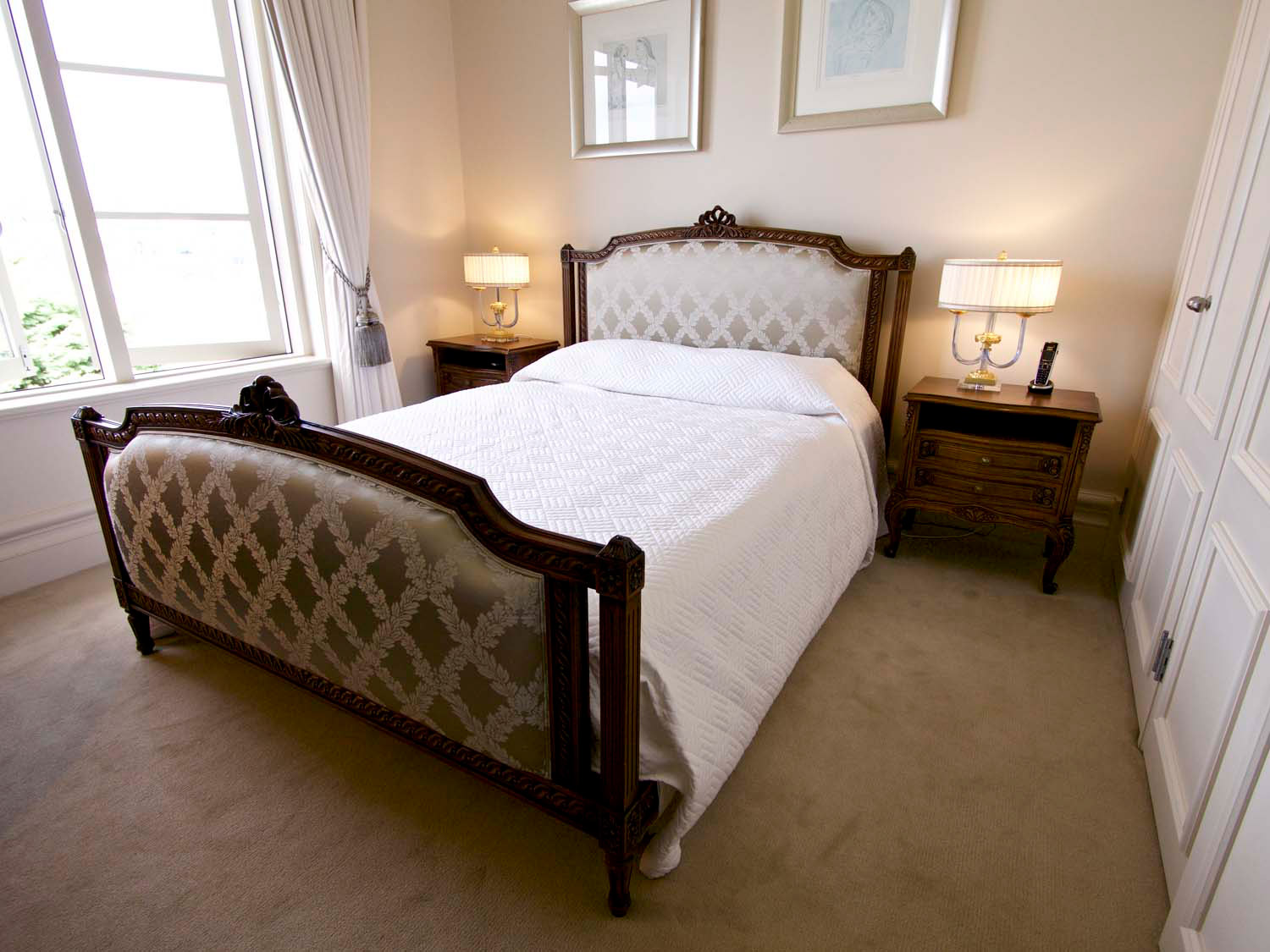 Louis Sleigh bed 
This classical Louis fifteen style sleigh bed has a curved headboard and footboard in shape of a sleigh. It has Louis fifteen carved and scalloped apron with floral motif at the top centre of the headboard and footboard. This bed is suited to slightly large bedroom as the shape takes a little extra space. The bed is available in timber or painted finish with or without highlights. A popular choice is striped linen fabric with an antique white finish, as well as toile or plain linen. This bed comes with slated base option so as to keep mattress not too high. This bed comes in every size. It works well with both louis 15, 16 French bedroom furniture.
Bordeaux Bed 
A classic French provincial bedhead in the Louis sixteen style with graceful curves atop and fine floral carved motif and beading border. This is a simple classic French look which works really well with more modern interiors or when painted white, it creates a lovely Hamptons style looking bedroom. French bedroom furniture to match is best in the Louis 15 curved style. The bed head can be diamond button too and in any fabric to match your bedroom.
Looking for more French provincial bedroom inspirations and ideas?
Check out our bedroom portfolio for some beautiful French bedroom interiors.