Jean-Christophe keeps things simple and elegant for this semi-formal dining space.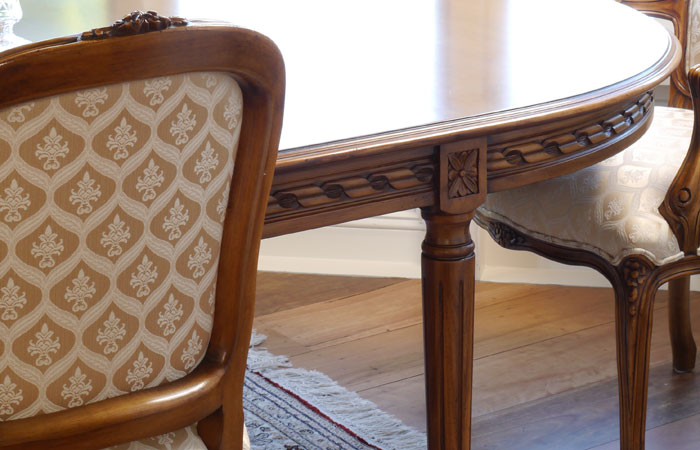 This elegant dining area was intended as a semi-formal room in which the owners could host special occasions such as family celebrations and get-togethers with friends.
As the room is long and narrow, it was important to design the space well to ensure it was functional as well as beautiful. For this reason Jean-Christophe selected a long d-end Louis 16 – XVI dining table, as the clean and uncomplicated lines avoid cluttering the room. As is characteristic of the Louis 16 – XVI style, the table has a graceful rope carving around the apron, and classic reeded and turned legs.
For the seating, Louis 15 – XV shieldback chairs were used, along with two carvers positioned at the ends of the table. The shield shape of the chair back is designed to conform to the body, making it a comfortable seat for those long and lively dinner parties. The chairs were upholstered using a Louis style champagne gold fabric, which added to the sophisticated characteristic of the room and picked up on the fabrics used in the adjoining living room.
 The large windows of the room not only afford diners a view out into the garden, but also bring in sunlight to enhance the warmth and richness of the gold fabrics and light walnut wood finishes.