The sunny colours of Provence bring warmth and joy to this family home.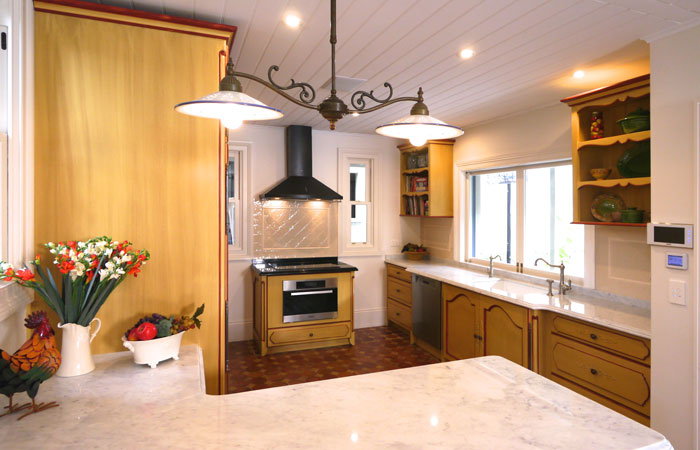 The idea for this kitchen was to create a friendly and convivial space; one which drew on the owner's European origins and evoked a slightly provincial lived-in quality.
In this space, the design was done from the ground up, with the floor treatment setting the context and providing inspiration for the rest of the room. The floor was created to mimic hexagonal terracotta tiles as often found in Dutch, French and Italian kitchens.
Unable to find suitable terracotta tiles with an antique finish, Jean-Christophe decided to used Portuguese terracotta tiles and antique them himself. Each of the tiles were hand sanded using a diamond sanding block, then covered in a hand rubbed antique finish, followed by a few coats of penetrating sealer, some more antique finish, and finally three more coats of protective sealer. The same process was applied to the travertine, which was laid between the octagonal tiles. Although the process was extremely laborious, the end result was wonderful.
The kitchen cabinetry was then designed to complement the exquisite tiles, with a traditional yellow and terracotta red trim used to brighten the relatively small room. The sunny provincial yellow brings a joyful quality to the family space, while the terracotta rub highlights the beautiful carvings and moldings. The cabinetry was built with high quality plantation plywood and timber, then stained and finished with a water-based eco friendly finish. Traditional 18th century French door hinges with beautifully ornate escutcheons, made in Paris, add an authentic touch.
The pantry next to the fridge was built in the style of a provincial armoire with shelves inside the door to store spices. To complete the kitchen, a beautiful Italian marble finished with laboriously hand cut moulding was chosen for the countertops, while black marble was chosen to complement the black glass top stove and oven. The butler sink was fitted with country brushed nickel taps imported from England, and the country copper lighting was handmade in Italy.
Jean-Christophe designed two open shelves to act as plate and book displays to reflect the open country quality that was desired. The kitchen island creates the perfect breakfast space and was furnished with three Louis 15 – XV stools finished in black leather and studding.
It is these small, considered details that tie the space together and help to create a beautiful and welcoming look.
Have you though about remodelling your kitchen? Contact us today for some fresh ideas.