A delicate colour scheme with just a hint of gold brings all the style of Paris to this sunny apartment.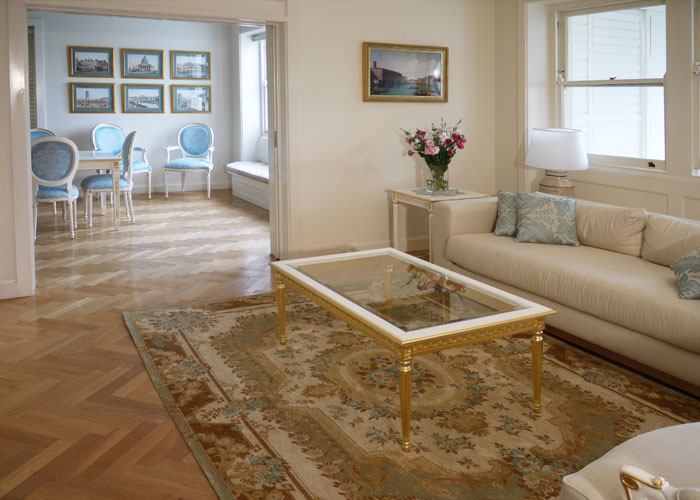 Jean-Christophe was commissioned to decorate this Sydney apartment to reflect the client's time spent in Paris, and the elegant and sophisticated décor she had encountered there. The key to achieving this look was to marry modern elements with French classical style.
For the lounge, a modern sofa was chosen for the main seating but juxtaposed with a beautiful traditional Aubusson rug set in front of it. On top he placed a Louis 16 – XVI style coffee table with a gilded base, white frame and bevelled edge glass. A matching Louis 16 – XVI side table with some gilded detail was placed at the side of the sofa. Hanging above is a print on canvas of a Canaletto painting, framed by a Louis 16 – XVI gilded frame made by an artisan in Paris.
To create an L-shape lounge setting, a two-seater Louis 15 – XV bergere with a single cushion and finished in antique white, was placed alongside the modern sofa. The gilded details on the bergere match the richness of the other pieces and enhance the sophisticated elegance of the space.
Opposite the main sofa and next to the fireplace stands a Louis 16 – XVI style television cabinet with four drawers and exquisite reeded details and carved rosettes. Jean-Christophe specially designed this piece for the space. It was decided to not decorate this piece with any gilding to ensure that it did not detract from the status of the lounge.
In a corner of the room, behind the bergere, is a small study and breakfast area furnished with a delicate rectangular Louis 16 – XVI style table with two Louis 16 – XVI ovalback dining carvers. The pale blue fabric of the chairs and white finished table complements the colour scheme throughout the apartment. A second Canaletto painting hangs on the wall, adding 18th century Venetian views to the space.
On the other side of the study is a custom designed Louis 16 – XVI style bookcase featuring a lovely carved urn and ornament on the pelmet. The side columns are reeded and graced with carved rosettes to match the design and décor throughout the apartment.
The refined detail of this décor, when combined with the sun-filled space and beautiful harbour views, results in a room imbued with warmth and tranquillity.